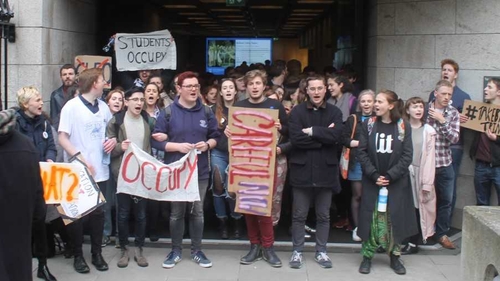 Dozens of students are taking part in a rally at Trinity College Dublin in protest against the planned introduction of new fees for supplemental exams.
Earlier a group of students began an occupation of the Dining Hall in the college, which is still ongoing.
A rally was held in Front Square, which was addressed by speakers including Senator David Norris and Solidarity/People Before Profit TD Richard Boyd Barrett.
Organisers say groups of protesters have gathered in a number of locations, closing down the front gate and the Book of Kells.
The demonstrations are part of the Take Back Trinity campaign organised by undergraduate and postgraduate students at the college. The group has launched an online petition and a website to gather support.
Students involved in the campaign say they are protesting against plans by the college to introduce a €450 flat-fee for those who re-sit exams.
They are demanding that supplemental exam fees be scrapped and not be reintroduced in the future.
They are also calling for affordable rental options for accommodation, and an end to increases in any student fees.
Nassau Street entrance has been shut down #TakeBackTrinity #TakeBackTrinity pic.twitter.com/DGzSO58Sye

— TCD Students' Union (@tcdsu) March 13, 2018
Last Friday dozens of students held a protest in two locations at Front Arch and outside the Book of Kells.
In a statement issued on Friday, Trinity College said that currently students are not charged for supplemental exams, but those who fail resits have to repeat the entire year and pay a full year's fees.
It said under the new arrangements repeating students will only pay for individual modules that have not been passed.
The statement said that the board of Trinity had decided the new arrangement was fair as it constituted a reduced and more even distribution of cost among the student body, as well as bringing Trinity in line with other universities that already charge for supplemental assessments.
It said students on the Trinity Access Programme or those availing of the HEAR (Higher Education Access Route) would be exempt from the charge.