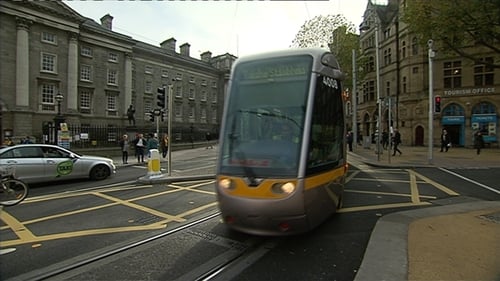 The longer-term solution to traffic problems at Dublin's College Green is to remove east and west traffic movement, according to the city council.
The council's Head of Technical Services, Brendan O'Brien, told an An Bord Pleanála hearing that the rerouting of 100 buses per hour had not eliminated delays, which also affect pedestrians and cyclists.
He said that north and southbound Luas trams cannot pass College Green simultaneously because of traffic turning onto Dame Street.
A ban on taxis travelling southbound between 7am and 10am Monday to Friday came into effect yesterday.
Mr O'Brien said that the longer-term solution is removing conflicting movement and allowing a "fast and efficient" corridor running north and south for trams, buses, taxis and cyclists.
"This would change the operation of the Trinity junction so that trams in both directions can run at the same time and will no longer impede each other".
He said it would also benefit bus services and allow taxis to now travel northbound through the area.
Pedestrians and cyclists would also benefit from reduced waiting times.
Earlier, consultant engineer Seamus Mac Gearailt told the oral hearing that three bus routes that currently terminate at Dame Street will have a turning circle at the western end of the plaza.
It is estimated that seven buses an hour would u-turn here in a circle area that has been tested at the Dublin Fire Brigade Training Centre.
Mr Mac Gearailt said the plaza would be 90% pedestrianised with a two way cycle track at the southern edge and clear guidance for the visually impaired through corduroy paving or cobbled channels instead of kerbs.