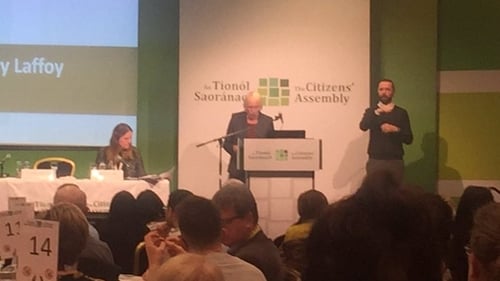 The Citizens' Assembly is meeting this weekend in Malahide, Co Dublin, to consider the manner in which referendums are held in Ireland.
Opening the discussions this morning, chairperson of the Assembly Ms Mary Laffoy told the members that the holding of referendums is a fundamental part of democracy and the only way the constitution can be changed.
Over 200 submissions were received in advance of today's discussion, all of which have been published.
Referendums are a fundamental part of our democracy..the only way the constitution can be changed.. Ms Mary Laffoy to the @citizensassembly pic.twitter.com/Q0QrUIdgqS

— Joe Mag Raollaigh (@joemagraollaigh) January 13, 2018
Those submissions and today's discussions will form the basis for a number of proposals which Assembly members will vote on tomorrow. 
If these are accepted they will then be passed on to the Oireachtas.
The discussions are taking place against the background of an expected referendum on the Eighth Amendment later this year.