Thin-film materials are likely to become increasingly important in the future. The race is still on between organic semiconductors, perovskites, and singlet fission dye-sensitized solar cells to create the next generation of solar cells. But one advantage that most of these next-generation techniques boast is that, as thin films, they can offer flexibility and versatility that you simply don't get with a lump of silicon. These optoelectronic materials could be used for solar panels that can be coated onto windows or building exteriors – and optically active thin film materials can be used for display screens and LEDs as well.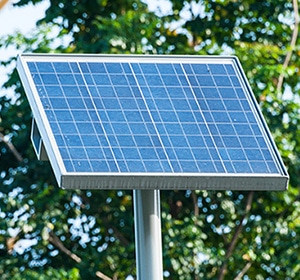 New research – spearheaded by engineers from Rutgers University in New Brunswick and Oregon State University – has developed a novel method for processing these thin films.
Fused-silver nanomaterials are used as electrical conductors in a range of different products, from solar cells and display devices to radio-frequency identification tags. The typical procedure is to fuse silver nanospheres into structures that can conduct electricity, and then place them onto a flexible substrate such as plastic, or other polymers. Previously, this was done using a method called "pulsed light fusion," where lasers bombarded the silver nanoparticles, heating them up to temperatures of around 250 degrees Celsius, to melt them into shape.
The new method uses a different type of precursor material. Rather than solid spheres for the silver nanoparticles that are fused together into complex structures, they have begun to use long, thin rods – nanowires of silver – in addition to the silver nanospheres.
This new study, published in RSC Advances and led by Rutgers School of Engineering doctoral student Michael Dexter, demonstrates that with nanowires, you can obtain fusion at just 150 degrees Celsius for the nanoparticles while maintaining electrical conductivity. The new technique is called "intense pulsed light sintering," and concentrates high-energy light over an area thousands of times larger than the typical focus of a laser to process the nanomaterials.
Pulsed light sintering of nanomaterials enables really fast manufacturing of flexible devices for economies of scale. Our innovation extends this capability by allowing cheaper temperature-sensitive substrates to be used.
Rajiv Malhotra, Senior Author & Assistant Professor – Department of Mechanical and Aerospace Engineering at Rutgers-New Brunswick
How fast is fast? While previous methods took minutes to hours to produce the fusion of the silver nanoparticles, this new method can take as little to 2-7 seconds, removing a time-bottleneck from the manufacturing process. What's more, the new technique allows for quite fine adjustments to control the material properties and morphology on a very small scale.
Copper sulfide nanoparticles have been studied extensively for their possible use in hybrid solar cells – which would allow increased efficiency beyond the Shockley-Quiesser limit for silicon solar cells, which arises because silicon can only absorb part of the solar spectrum. By combining materials with different bandgaps, this efficiency limit can be breached; copper sulfide has been studied as a possible photovoltaic material for over a decade and can also be solution-processed.
Having found success by using silver nanoparticulate wires instead of spheres, the researchers are keen to investigate the potential uses for other shapes of the particle in fusion. "The next step is to see whether other nanomaterial shapes, including flat flakes and triangles, will drive fusion temperatures even lower," Malhotra said. The lower temperatures required, increased efficiency, and speed of the fusion means that the energy consumption and time consumption of nano-manufacturing could be substantially lower.