Whale watchers out on Monterey Bay got lucky Thursday. They saw gray whales, humpback and dolphins all in one trip.
But we may be even luckier — video taken by a drone by Monterey Bay Whale Watch gives us an incredible bird's eye view.
There's so much activity in the roughly one-minute video, it's almost hard to keep up.
The video opens with five very social gray whales. They're on their annual northern migration from Baja California, where they mate and breed, to Alaska where they spend the summer. Fresh off their Mexican winter vacation, the whales are still very playful as they roll over each other.
WHALE WATCH: 81 gray whales spotted off Point Reyes Saturday — and more are on the way
Meanwhile, pacific white-sided dolphins play around the perimeter. Nancy Black, marine biologist with Monterey Bay Whale Watch, says dolphins can get curious when whales display social behaviors and often come to see what the excitement is all about.
Then, two humpback whales can be seen rushing up to the surface with gaping mouths, a behavior called lunge feeding.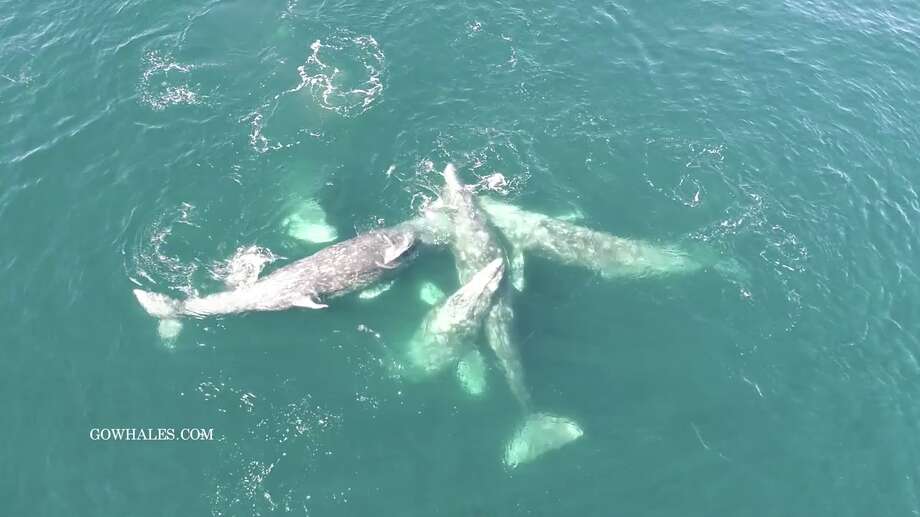 Humpbacks gather their prey, like anchovies, sardines, or in this case krill, by scaring them, which pushes the small fish into tight groups. That makes it easier for the humpback to swoop in and gather hundreds of pounds of food in one big gulp.
CLOSE ENCOUNTER: Whale stuns divers, coming within 5 feet and staring into camera
"Often it happens underwater so we don't even get to see it," Randy Straka, a photographer with Princess Monterey Whale Watching told SFGATE in 2017.
If the fish or krill are near the surface, they have nowhere to go but up, so humpbacks will jump out of the water to catch them, an action called vertical lunge feeding. When feeding on krill (as opposed to fish like anchovies), the movement is slower, so the humpbacks end up putting on a great show for whale-watchers nearby.
Read Alix Martichoux's latest stories and send her news tips at amartichoux@sfchronicle.com.