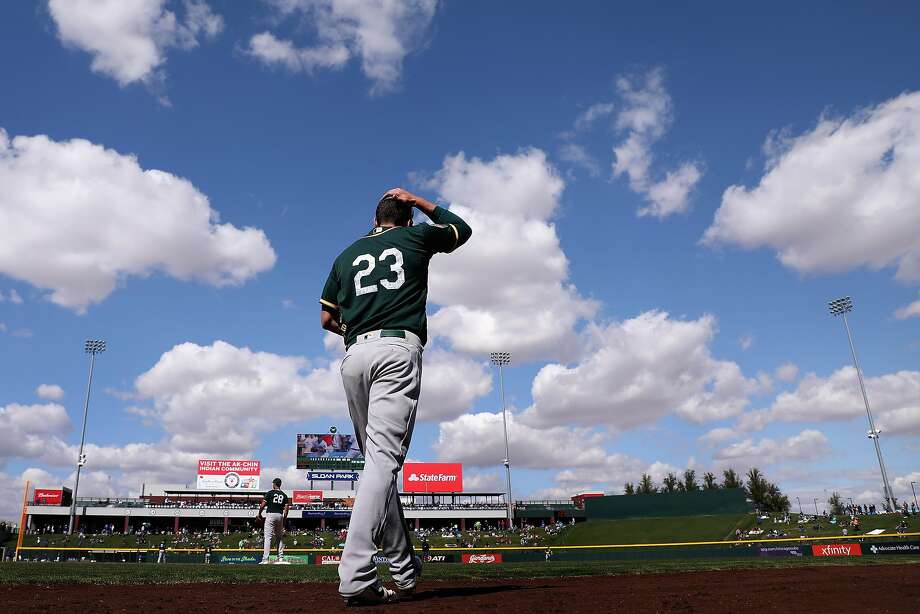 MESA, Ariz. — Matt Joyce is moving from right field to left field this season, but he hasn't been seen much with a glove.
A sore right elbow is limiting Joyce, who hasn't appeared defensively in a game since March 1 and, according to manager Bob Melvin, isn't expected to play the field for another week.
"We still feel like he'll be ready to start the season," said Melvin, looking to the March 29 opener.
Joyce missed half of the 2010 season with a right elbow strain that developed in spring training — "I had a little tear in there" — and said that he feels soreness off and on, and that throwing ignited his latest episode.
"I went too hard too fast, and I think I just got some inflammation in there and really aggravated it and tried to throw through it," Joyce said, "but sometimes it's better to shut it down."
Joyce is able to swing a bat — he was Sunday's designated hitter and doubled in four trips — but the last time he played right field was March 1, and the last time he was in left field was Feb. 25.
He had an MRI exam and was cleared to begin a throwing program Monday.
"I'll make sure I can throw to the point where, if I have to throw in a game, it'll be fine," Joyce said. "I would imagine three or four days of the throwing program, then maybe in the outfield, hopefully.
"I've got to get some reps out there if I'm going to play out there, so the sooner, the better."
Last year, Joyce played mostly right field, a position that now belongs to Stephen Piscotty. This year, the left-field platoon figures to be Joyce and Chad Pinder.
"I'm not worried about it. I've played both sides," Joyce said. "It's just a matter of getting the reps during batting practice and getting comfortable with it, but I don't mind either one."
Chapman, finally: Third baseman Matt Chapman opened camp 0-for-15 with five strikeouts and was desperate for a hit. Any kind of hit.
It came in grand fashion. In the A's 7-2 Cactus League win over the Cubs on Sunday, Chapman hit a three-run home run off lefty Kyle Ryan and exhaled while rounding the bases.
"I feel like I'm back on the team," Chapman told reporters, prompting Khris Davis to chime in from a few lockers away, "Nice line, Chap."
Chapman, who missed time early in camp with a sore right hand and had a cortisone shot, said he has no issues with the thumb guard that he plans to use during the season.
"I kind of got thrown into the fire a little bit," Chapman said. "If you don't have success right away, especially after working hard in the offseason, you start to get a little frustrated. Today, it was nice to get that first one out of the way."
Briefly: New catcher Jonathan Lucroy was in camp, but the A's didn't announce his signing because they were waiting on results of his physical. … Renato Núñez remains slowed by a hamstring strain, and the A's are uncertain whether he'll be ready for the season. He's running, hitting and fielding grounders but unable to play. … The A's cut eight players. Pitchers Jairo Labourt and Lou Trivino were optioned to Triple-A Nashville, and pitchers Jeremy Bleich, Jarret Martin, Nolan Blackwood and Bobby Wahl, catcher Santiago Chavez and infielder Nick Noonan were reassigned to minor-league camp.
John Shea is The San Francisco Chronicle's national baseball writer. Email: jshea@sfchronicle.com Twitter: @JohnSheaHey
A's 7, Cubs 2
Notable:
Sean Manaea made his second start since overcoming a sore back and felt good about his slider, except for the one Kyle Schwarber hit over the right-field wall. The next batter homered, too, Chris Gimenez connecting on a fastball. Manaea hopes to rely more on the slider to complement his fastball and changeup. … Andrew Triggs, among several pitchers competing for rotation spots, threw three perfect innings with four strikeouts. … Mark Canha caught the ceremonial first pitch — from Raiders punter Marquette King — and homered. … Shortstop Marcus Semien, who played for the 2008 St. Mary's High-Berkeley basketball team that played in the state championship game, showed good hops turning Jason Heyward's liner into a double play.
Quotable: "It has been a little struggle for some guys, but everybody is working their butt off. I kind of expect guys to struggle and find that one thing. Once they can figure that one thing out, I feel we're going to be pretty consistent in the starting rotation."
— Sean Manaea on the rotation's spring training struggles.
Monday's game: Giants at A's, 1:05 p.m. Radio: 95.7
— John Shea