WASHINGTON — Patrik Laine knows where he stands.
The Winnipeg Jets' winger might not keep track of each time Alex Ovechkin or Evgeni Malkin scores, but he knows how many goals each man has.
"I just sometimes look at the scoreboard and the scoresheets," Laine said. "I always pretty much know where's everyone at."
Through Sunday, Laine was tied with Ovechkin at 40 goals atop the NHL and looking to reach 50 for the first time in his career. Just 19, he is a real threat to win his first Rocket Richard Trophy as the NHL's top goal scorer. Ovechkin, at 32, is seeking his eighth 50-goal season and seventh goal-scoring title.
Ovechkin is keeping track, too.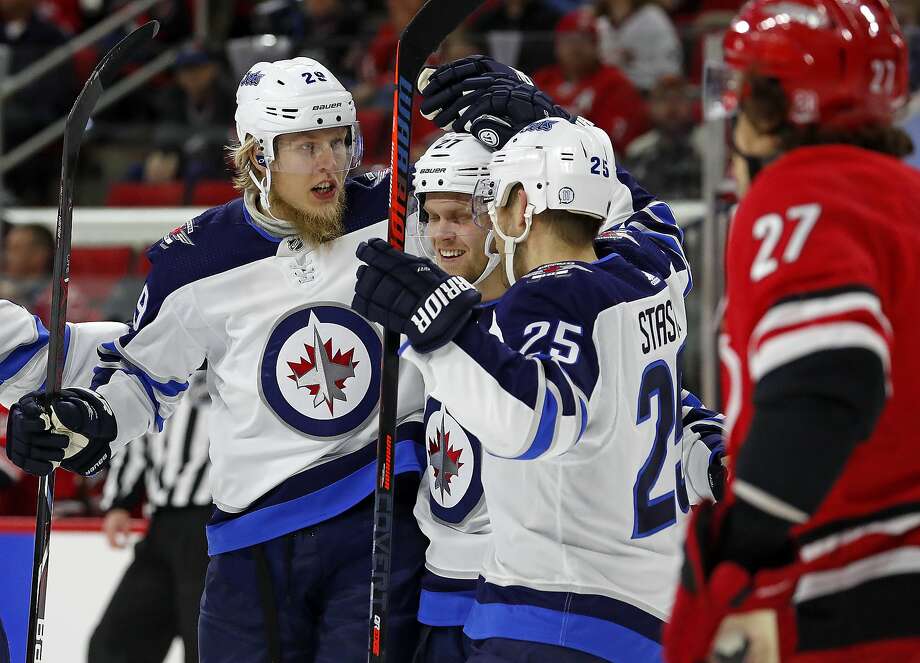 "If you're close to the top three or top five, of course you pay attention," Ovechkin said Monday. "I don't believe when someone says, 'I don't care about the stats,' and all of this kind of stuff. Of course, they want points. They want goals."
The goals race comes down to Ovechkin and Malkin — the Nos. 1 and 2 picks from 2004 — and Laine, the second selection in 2016 who has shown he deserves to be in the conversation for the best goal-scorer in hockey today.
"He's got a gift for scoring goals," Winnipeg defenseman Ben Chiarot said. "It's even more profound that you look for him in the offensive zone because if he gets the puck — it's crazy to say — it's like a 60, 70 percent chance he's going to put it in the back of the net. I've never played with anyone like that — that dangerous."
Winnipeg teammates aren't shy to say Laine's abilities are "Ovechkin-like" because Laine is scoring as a teenager the way the Washington winger did. Ovechkin is no doubt the greatest goal-scorer of this generation, now two away from being the 20th player in NHL history to reach 600.
Head coach Barry Trotz thinks 50 is a more important milestone for the Russian, given his recent trajectory.
"The 600 will be something he'll have forever, but I think he'll put a lot of pride if he can get 50 this year," Trotz said. "I think the way he looks at it, it's so hard to do and he had a down year (last season). He wants to show that he can still do it."
After picking up the 598th of his career and 40th of the season, Ovechkin said that "40 is nice, but 50 is better."
"It would be pretty amazing and pretty unbelievable," Ovechkin said. "I still have time, and (with) a little bit of luck, a little bit of help from upstairs, I don't know. We'll see."
Laine had 15 goals in his past 11 games going into Monday's matchup in Washington.
The most prolific young Finn since Teemu Selanne said winning the Rocket Richard Award has long been a dream, and now 50 is in reach as he clicks with linemates Nikolai Ehlers and Paul Stastny.
"You never know what's going to happen," Laine said. "Ten games ago, I was at 25 and nobody was talking about even 40. There's a lot of things that could happen. If we're playing like this with Niky and Paul, why not?"
Ovechkin already has seven more goals than all of last season to get to 40 for the ninth time. Only Wayne Gretzky, Mario Lemieux and Marcel Dionne have scored 40 goals in a season more times than Ovechkin.
"I don't think people understand how hard that is to do," Toronto center Nazem Kadri said. "He makes it seem so effortless. He's got a very special shot."
Winnipeg center Andrew Copp wondered if Laine's shot is even more special than Ovechkin's. Copp hasn't seen Laine score from the center red line yet but joked, "I'm sure that day will come."
"Ovi's got a big, winding-up wrister and it comes off just kind of so crazy whereas Patty, it's almost like he's throwing darts at the net," Chiarot said. "It's just a little flick of the wrist and it's kind of where he wants it. … I think it's the most dangerous shot in the league."
Winnipeg head coach Paul Maurice senses confidence oozing from Laine just from watching him at practice. Maurice can see an entirely different player from a month ago.
"If you're getting close to 50, you're feeling good about your game," Maurice said. "Any of these guys, confidence is a critical piece. That puck is off Patty's stick where he wants it right now every time. So he's feeling it, he's feeling good."
Malkin, who has 39 goals, right now might be the most dangerous player in the league. The Penguins' center is right there with Ovechkin, New Jersey winger Taylor Hall, Steven Stamkos and Tampa Bay teammate Nikita Kucherov and Colorado forward Nathan MacKinnon in a crowded MVP race.
Playing on the same team as Sidney Crosby could leave Malkin underappreciated at times, but he's playing some of the best hockey of his career.
"I have confidence right now," Malkin said recently. "It's like every shot goes in. It's funny sometimes. I'm trying to do my best."
Stephen Whyno is an Associated Press writer.